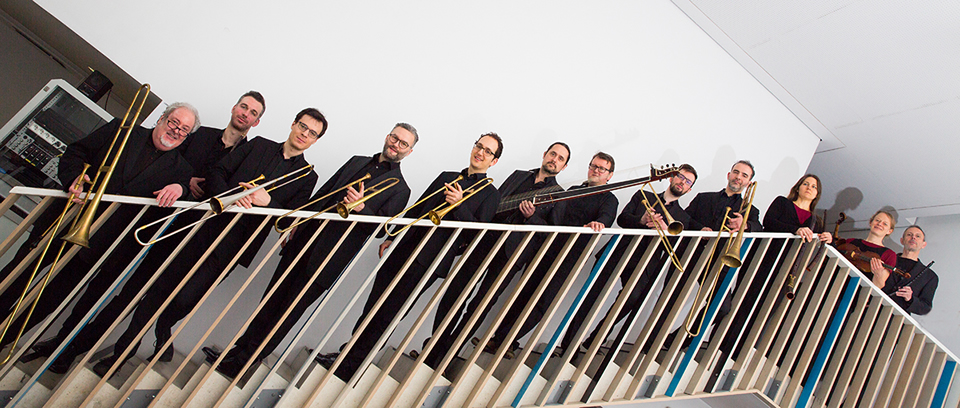 The ensemble and its artistic director
For more than 25 years now, Oltremontano has been an internationally renowned historical brass ensemble. The name Oltremontano is a reference to the vanguard Flemish composers who dominated the European music scene during the 15th and 16th centuries. In Italy, they were known as 'Oltremontani'- the people across the mountains.
Sackbuts and cornetts are at the heart of the ensemble. This corresponds to the configuration of North Italian and North German renaissance music ensembles. The ensemble often invites vocalists, which has led to collaborations with, amongst others, Capilla Flamenca, Pluto ensemble, Psallentes and Capella Cracoviensis, or with top solo artists like Dorothee Mields, Charles Daniels and Harry van der Kamp.
Oltremontano has become an incubator for the development of historical trombones and the repertoire that was composed for these instruments. The ensemble has produced a unique recordings catalogue that has received critical acclaim.
Until 2022, they will be artist in residence at the Royal Museum of Fine Arts Antwerp (KMSKA).
Wim Becu (BE) ) studied trombone at the Conservatories of Antwerp and The Hague. Within his field – early music – he has committed to a great many varieties of historical trombone. Becu has collaborated with prominent old music ensembles like Huelgas Ensemble, Concerto Palatino, Hespérion XX, Les Sacqueboutiers de Toulouse and l'Orchestre des Champs-Elysées. In 1993, he founded his own ensemble Oltremontano, a haven for historical brass wind instruments. Until the end of 2022, they will be artist in residence at the Royal Museum of Fine Arts Antwerp. Apart from performing, Wim Becu also teaches at the Royal Conservatory in Den Haag and at the Bremen Art College (Hochschule für Künste), and at various academies in Antwerp and Brussels.
In 2015, he was awarded the prestigious Christopher Monk Award by the Historic Brass Society "trough his virtuoso period instrument performances and recordings in a wide range of reptertoires". He participated in more than 300 CD-recordings.
Who is who?